New Releases I'm reviewing and looking forward to
4th
Title: My One True Highlander
Series: No Ordinary Hero #2
Author: Suzanne Enoch
Format: Paperback & eBook, 319pgs
Published: April 4, 2017 by St. Martin's
ASIN: B01LX5LOTJ
Rugged highlander Graeme has one thing on his mind—take a stand against the horrible Englishman Lattimer and he will be rewarded with enough money to be set for life. But when his reckless younger brothers take it one step too far and kidnaps a young woman on her way to see Lattimer, Graeme has to intervene. He cannot send the lady back without his kin getting in trouble. And when a damsel this beautiful is dropped into your lap, it's hard to let her go...

Marjorie should be terrified she's been captured by highland scoundrels, but it's hard to live in terror when your captor is a devilishly handsome and sinfully tempting as Graeme is. She cannot stay by his side forever—no matter how her heart may pound at the thought—but Graeme seems to have other plans. This wicked highlander is out to seduce her and doesn't plan to stop until she's in his arms...forever...
Title: Wild Ride
Series: Black Knights Inc #9
Author: Julie Ann Walker
Format: Paperback & eBook, 384pgs
Published: April 4, 2017 by Sourcebooks Casablanca
ASIN: B01GST2X1A
The hero we've all been waiting for...

Ethan "Ozzie" Sykes


Former Navy SEAL


Underground operator for Black Knights Inc., the covert government defense firm disguised as a custom motorcycle shop.

In a black-on-black international mission that went seriously sideways, Ozzie was badly injured—now he's stuck at BKI headquarters in Chicago, champing at the bit to get out into the field again. To his disgust, he's tasked with distracting Chicago Tribune ace reporter Samantha Tate, who's been trying to dig up the dirt on BKI for years. Turns out Samantha's beauty, intelligence and sense of humor are a seriously big distraction, and Ozzie's losing his desire to keep her at bay.

Ozzie's tired of hiding, and Samantha may be the best-and worst—person to share his secrets with...
Title: Fighting for Love
Series: Boston Love #2
Author: Kelly Elliott
Format: eBook, 360 pgs
Published: Aril 4, 2017 by Loveswept
ASIN: B01I85PPSU
A larger-than-life firefighter inspires a career-driven woman to live in the moment—and trust in the power of love—in this flirty, emotional novel from the New York Times bestselling author of Searching for Harmony.

Finn Ward has two passions: being a firefighter and being single. Although his parents are constantly nagging him to settle down, Finn just wants to enjoy himself while he's young. Then, at a union meeting, he meets a gorgeous lawyer with a dazzling smile—and suddenly, settling down doesn't sound so bad.

Rory Adams is fresh out of law school and looking to make a name for herself at her mother's firm. She doesn't have time for silly games anymore. But when she catches the eye of a dashing fireman who makes her body tingle from across the room, something instantly ignites between them. The only problem? Her father is Finn's boss.

Their relationship turns both of their lives upside-down. Rory tames Finn's wild ways, while he shows her that life can't be all work and no play. But it'll take some serious determination to keep their love secret—and real courage to admit the truth.

18th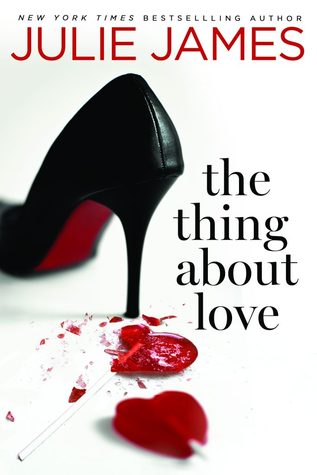 Title: The Thing About Love
Author: Julie James
Format: Paperback & eBook, 384pgs
Published: April 18, 2017 by Berkley
ASIN: B016VRFTOC
Two undercover FBI agents can hide who they are from everyone but each other in the latest novel from the New York Times bestselling author of Suddenly One Summer.

FBI agents Jessica Harlow and John Shepherd have a past. The former lawyer and cocky Army ranger clashed during their training at Quantico, gladly going their separate ways after graduating from the Academy. Six years later, the last thing either of them expects is to run into each other again–assigned to work as partners in a high-profile undercover sting.

For both of them, being paired with a former rival couldn't come at a worse time. Recently divorced from a Hollywood producer and looking for a fresh start, Jessica is eager to prove herself at her new field office. And John is just one case away from his dream assignment to the FBI's elite Hostage Rescue Team. In order to nail a corrupt Florida politician, they'll have to find a way to work as a team–a task that becomes even trickier when they're forced to hole up at a romantic, beachfront resort as part of the investigation. Suddenly, the heat behind their nonstop sparring threatens to make the job a whole lot more complicated. . .
25th
Title: Hard-Hearted Highlander
Series: Highland Grooms #3
Author: Julia London
Format: Paperback & eBook, 384 pgs
Published: April 25, 2017 by HQN
ASIN: B01MG7KX4A
A indomitable governess...a brooding Highlander...a forbidden affair...

An ill-fated elopement cost English-born governess Bernadette Kent her reputation, her fickle lover and any chance of a future match. She has nothing left to fear—not even the bitter, dangerously handsome Scot due to marry her young charge. Naive wallflower Avaline is terrified to wed Rabbie Mackenzie, but if he sends her home, she will be ruined. Bernadette's solution: convince Rabbie to get Avaline to cry off while ignoring her own traitorous attraction to him.

A forced engagement to an Englishwoman is a hard pill for any Scot to swallow. It's even worse when the fiancee in question is a delicate, foolish young miss unlike her spirited, quick-witted governess. Sparring with Bernadette brings passion and light back to Rabbie's life after the failed Jacobite uprising. His clan's future depends upon his match to another, but how can any Highlander forsake a love that stirs his heart and soul?
Title: No Easy Target
Author: Irish Johansen
Format: Paperback & eBook, 352pgs
Published: April 25, 2017 by St. Martin's Press
ASIN: B01LX3ACC7
When an enemy from her past threatens to return, Margaret Douglas must go on the run. But danger is in hot pursuit, and Margaret finds herself matching wits with a man who refuses to be stopped. Turning from the hunted to the hunter, Margaret must use everything she has to not only survive, but defeat evil and prove she's No Easy Target in this high-octane thriller.

Title: Six Impossible Things
Series: Rhymes With Love #6
Author: Elizabeth Boyle
Format: Paperback & eBook, 384pgs
Published: April 25, 2016 by Avon
ASIN: B00OP06EV0
In the sixth novel of the enchanting Rhymes with Love series from New York Times bestselling author Elizabeth Boyle, a nobleman falls in love with a beautiful spy he must protect

Lord Rimswell is a man of honor and absolutes. If he says something is impossible, it is. Yet his life of right and wrong is turned upside down when he finds himself in a compromising situation with the most unyielding, yet maddeningly beautiful, woman in London. If only he had not given in to the irresistible temptation to kiss her. Now he must marry her.

Miss Roselie Stratton is the very definition of impossible—headstrong, outspoken and carrying a reticule of secrets that could ruin more than her reputation. Kissing Brody is hardly the most ruinous thing Roselie has ever done as a secret agent for the Home Office…nor will she let a marriage of convenience stop her from continuing her work. Little does Roselie realize that she has underestimated Brody's resolve to keep her safe—for he has hopelessly fallen in love with her and is determined to do the impossible by stealing her heart in return.
Any ones I missed? I have a feeling some J.R. Ward fans think I did ;)
What April new releases are you looking forward to?