New Releases I'm reviewing and excited to read
7th
Title: Trapped
Series: Finding Justice #3
Author: Rhonda Pollero
Format: Paperback & eBook, 352pgs
Published: Nov. 7, 2017 by Forever Yours
ASIN: B06XFWSWWQ
Links: Goodreads Amazon B&N
Lured into danger, trapped by desire . . .

Chasyn Summers has a target on her back. As the key witness in a murder case, she's risking her life to testify in court--and she needs protection. But when she's assigned a personal bodyguard who's disarmingly tough--and distractingly gorgeous--it's not just her life that's in danger. It's her heart . . .

Declan Kavanaugh works strictly by the rules. Never get too close to a client. And never, ever, fall in love. But he's never protected anyone as beautiful, or as intriguing, as Chasyn. Surrendering to passion is a risk they can't afford to take, especially when danger meets desire and Declan realizes Chasyn Summers may be the ultimate trap.
Title: Risky Redemption
Series: Rogue Security #1
Author: Marissa Garner
Format: Paperback & eBook, 416pgs
Published: Nov. 7, 2017 by Forever Yours
ASIN: B07288DWB9
Links: Goodreads Amazon B&N
Four years ago, Angela Reardon was brutally attacked, and she still bears the physical scars and traumatic memories. While she's worked hard to overcome her fears and build a successful business, she's still haunted by her inability to identify her assailant. Now Angela only wants to be left alone-until a shadowy stranger reignites her desire to be loved. But their time together may be brief...because someone wants her dead.

CIA assassin Jake Stone's targets deserved to die. Until now. Until he falls in love with the innocent woman he's been hired to kill. Jake can't fight his attraction to Angela, and he knows that someone else will be sent to finish the job. So can he save Angela and redeem himself by uncovering who wants her killed? When the trail leads him into the carnal underbelly of L.A., the truth is more shocking than even he could ever imagine.
Title: Someone to Wed
Series: Wescott #3
Author: Mary Balogh
Format: Paperback & eBook, 394 pgs
Published: Nov. 7, 2017 by Berkley
ASIN: B06VTV29NX
Links: Goodreads Amazon B&N
A very practical marriage makes Alexander Westcott question his heart in the latest Regency romance from the New York Timesbestselling author of Someone to Hold.

When Alexander Westcott becomes the new Earl of Riverdale, he inherits a title he never wanted and a failing country estate he can't afford. But he fully intends to do everything in his power to undo years of neglect and give the people who depend on him a better life. . . .

A recluse for more than twenty years, Wren Heyden wants one thing out of life: marriage. With her vast fortune, she sets her sights on buying a husband. But when she makes the desperate—and oh-so-dashing—earl a startlingly unexpected proposal, Alex will only agree to a proper courtship, hoping for at least friendship and respect to develop between them. He is totally unprepared for the desire that overwhelms him when Wren finally lifts the veils that hide the secrets of her past. . . .
Title: No Other Duke Will Do
Series: Windham Brides #3
Author: Grace Burrowes
Format: Papberbook & eBook, 368pgs
Published: Nov. 7, 2017 by Forever
ASIN: B06XFR3CCH
Links: Goodreads Amazon B&N
Julian St. David, Duke of Haverford, is barely keeping his head above water in a sea of inherited debts. Though he has a long-term plan to restore the family finances, his sister has a much faster solution: host a house party for London's single young ladies and find Julian a wealthy bride.

Elizabeth Windham has no interest in marriage, but a recent scandal has forced her hand. As much as she'd rather be reading Shakespeare than husband-hunting, she has to admit she's impressed by Julian's protective instincts, broad shoulders, and, of course, his vast library.

As the two spend more time together, their attraction is overwhelming, unexpected... and absolutely impossible. With meddling siblings, the threat of financial ruin, and gossips lurking behind every potted palm, will they find true love or true disaster?
14th
Title: Romancing the Scot
Series: The Pennington Family #1
Author: May McGoldrick
Format: eBook, 284 pgs
Published: Nov. 14, 2017 by Swerve
ASIN: B0746MLYFZ
Links: Goodreads Amazon B&N
In this stunning series starter by USA Today bestselling author May McGoldrick, meet the new generation of Penningtons...five brothers and sisters of passion and privilege. Enter their aristocratic world…where each will fight injustice and find love.

Hugh Pennington—Viscount Greysteil, Lord Justice of the Scottish Courts, hero of the Napoleonic wars—is a grieving widower with a death wish. When he receives an expected crate from the continent, he is shocked to find a nearly dead woman inside. Her identity is unknown, and the handful of American coins and the precious diamond sown into her dress only deepen the mystery.

Grace Ware is an enemy to the English crown. Her father, an Irish military commander of Napoleon's defeated army. Her mother, an exiled Scottish Jacobite. When Grace took shelter in a warehouse, running from her father's murderers through the harbor alleyways of Antwerp, she never anticipated bad luck to deposit her at the home of an aristocrat in the Scottish Borders. Baronsford is the last place she could expect to find safety, and Grace feigns a loss of memory to buy herself time while she recovers.

Hugh is taken by her beauty, passion, and courage to challenge his beliefs and open his mind. Grace finds in him a wounded man of honor, proud but compassionate. When their duel of wits quickly turns to passion and romance, Grace's fears begin to dissolve…until danger follows her to the very doors of Baronsford. For, unknown to either of them, Grace has in her possession a secret that will wreak havoc within the British government. Friend and foe are indistinguishable as lethal forces converge to tear the two lovers apart or destroy them both.
Title: Alec MacKenzie's Art of Seduction
Series: MacKenzies and McBrides #9
Author: Jennifer Ashley
Format: Paperback & eBook, 396 pgs
Published: Nov. 14, 2017 by JA / AG Publishing
ASIN: B074WLPD54
Links: Goodreads Amazon B&N
Alec Mackenzie earns a living in exile as an art instructor, a cover for his search of several countries for his missing brother. Lady Celia, an Englishwoman who refuses to marry gentlemen her martinet mother chooses for her, is sent to Alec, the mysterious Scottish recluse, for drawing lessons–her family commands her to learn a skill if she's put herself off the marriage mart. Alec decides that the courageous Celia needs to expand her talents in painting the human figure, especially that of the male …

Celia is intrigued by the man who pretends his name is Mr. Finn. He's a Scotsman, she deduces, but he can't be one of the Highlanders who rose against the king, else she'd be allowed nowhere near him, and he'd be under arrest or already dead.

But as Celia lets her curiosity guide her, she uncovers more about Alec, including his name, his title, and the fact that he was indeed one of the Highlanders at Culloden. She sees the loneliness in Alec, his terrible sense of loss, his tenderness toward his daughter, and realizes he's a complex man trying to survive now that his home has been destroyed. She also wonders why he's left the safety of France to come to England, and the learns that he believes she's the key to finding his missing brother.

But Celia unravels too many secrets, which put not only her life and Alec's but also her heart in grave danger.

Note: Alec Mackenzie is the brother of Malcolm from The Stolen Mackenzie Bride. He is an ancestor of the Mackenzie family whose story begins with The Madness of Lord Ian Mackenzie.
Title: How to Woo a Wallflower
Series: Romancing the Rules #3
Author: Christy Carlyle
Format: Paperback & eBook, 396 pgs
Published: Nov. 14, 2017 by JA / Avon Impulse
ASIN: B01NGZK68N
Links: Goodreads Amazon B&N
An Unconventional Wallflower…

Clarissa Ruthven was born to be a proper lady, but she's never wanted to live up to the expectations her late father set. Determined to use her inheritance to help the less fortunate women of London, she's devastated to learn that she won't be inheriting anything until she marries, a fate she has no interest in. Unwilling to let go of her plans, Clary works at Ruthven Publishing for Gabriel Adamson, a man who's always hated her. She's always returned the feeling, but as she begins to turn her family's publishing company upside down, she finds herself unable to forget her handsome boss.


Never Follows the Rules…

Gabriel Adamson believes in order. He certainly doesn't believe Clary should be sticking her nose in the publishing company, and she definitely has no business invading his every thought. But Gabe soon finds he can't resist Clary's sense of freedom or her passionate kisses and he starts to crave everything she's willing to give him.


Especially When It Comes to Love…

When Gabe's dark past comes back to haunt him, he'll do anything to make sure that Clary isn't hurt…even if it means giving up the only woman he's ever loved.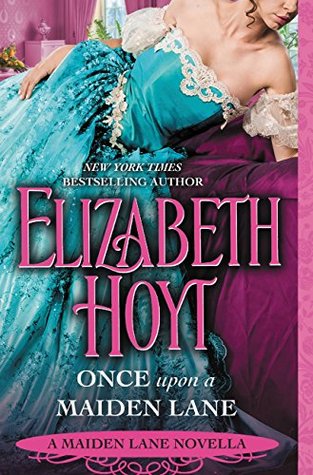 Title: Once Upon a Maiden Lane
Series: Maiden Lane #12.5
Author: Elizabeth Hoyt
Format: eBook, 100 pgs
Published: Nov. 14, 2017 by Forever Yours
ASIN: B01MYGCHYC
Links: Goodreads Amazon B&N
Miss Mary Whitsun is far too intelligent to fall for the rakish charms of a handsome aristocrat. But when the gentleman in question approaches her in a bookshop, mistaking her for his fiancée, Lady Johanna Albright, the flirtatious encounter only raises more questions. Could Mary, a servant raised in a St Giles orphanage, actually be Lady Joanna's long-lost twin sister? If so, Mary has been betrothed since birth—to the rakishly handsome artistocrat himself.

Henry Collins, Viscount Blackwell, is far too intrigued by Mary to let her go so easily. He's drawn to her sharp mind, indomitable spirit, and the fiery way in which she dismisses him—ladies simply don't dismiss Lord Blackwell. But as Mary makes her first hesitant steps into society, she can't help but wonder if she truly has a place in Henry's world—or in his heart.
Title: Twisted Truths
Series: Blood Brothers #3
Author: Rebecca Zanetti
Format: Paperback & eBook, 432 pgs
Published: Nov. 14, 2017 by Forever
ASIN: B06XFVS9CB
Links: Goodreads Amazon B&N
You can't escape the past . . .

Noni is desperate. Her infant niece has been kidnapped, and the only person who can save her is a private detective with too many secrets to count--and more enemies than he can name. A man who walked away from Noni without any warning a year ago, a man who broke her heart. But with Talia's life on the line, Noni needs his help now more than ever--and this time, she won't take no for an answer . . .

The moment Denver Jones sees Noni, the memories come rushing back. The fire in her eyes. The determination in her voice. The danger of having her in his life. Denver had to push her away once, but now with vicious criminals threatening Noni and her niece, he'll do whatever it takes to protect them. But enemies from his past are circling, and they'll use anything--and anyone--to get to Denver.

With twists and turns that will blow you away, TWISTED TRUTHS is sexy, action-packed suspense at its very best from New York Times bestselling author Rebecca Zanetti.
28th
Title: Wrong to Need You
Series: Forbidden Hearts #2
Author: Alisha Rai
Format: Paperback & eBook, 396 pgs
Published: Nov. 28, 2017 by Avon
ASIN: B06XFWNP5V
Links: Goodreads Amazon B&N
He wasn't supposed to fall in love with his brother's widow…

Accused of a crime he didn't commit, Jackson Kane fled his home, his name, and his family. Ten years later, he's come back to town: older, wiser, richer, tougher—and still helpless to turn away the one woman he could never stop loving, even after she married his brother.

Sadia Ahmed can't deal with the feelings her mysterious former brother-in-law stirs, but she also can't turn down his offer of help with the cafe she's inherited. While he heats up her kitchen, she slowly discovers that the boy she adored has grown into a man she's simply unable to resist.

An affair is unthinkable, but their desire is undeniable. As secrets and lies are stripped away, Sadia and Jackson must decide if they're strong enough to face the past...and step into a future together.
Title: A Hope Divided
Series: The Loyal League #2
Author: Alyssa Cole
Format: Paperback & eBook, 320 pgs
Published: Nov. 28, 2017 by Kensignton
ASIN: B06XFJ6224
Links: Goodreads Amazon B&N
The Civil War has turned neighbor against neighbor--but for one scientist spy and her philosopher soldier, war could bind them together . . .

For three years of the War Between the States, Marlie Lynch has helped the cause in peace: with coded letters about anti-Rebel uprisings in her Carolina woods, tisanes and poultices for Union prisoners, and silent aid to fleeing slave and Freeman alike. Her formerly enslaved mother's traditions and the name of a white father she never knew have protected her--until the vicious Confederate Home Guard claims Marlie's home for their new base of operations in the guerilla war against Southern resistors of the Rebel cause.

Unbeknowst to those under her roof, escaped prisoner Ewan McCall is sheltering in her laboratory. Seemingly a quiet philosopher, Ewan has his own history with the cruel captain of the Home Guard, and a thoughtful but unbending strength Marlie finds irresistible.

When the revelation of a stunning family secret places Marlie's freedom on the line, she and Ewan have to run for their lives into the hostile Carolina night. Following the path of the Underground Railroad, they find themselves caught up in a vicious battle that could dash their hopes of love--and freedom--before they ever cross state lines.
Title: A Duke in Shining Armor
Series: Difficult Dukes #1
Author: Loretta Chase
Format: Paperback & eBook, 400 pgs
Published: Nov. 28, 2017 by Avon
ASIN: B06XFCPWZP
Links: Goodreads Amazon B&N
Not all dukes are created equal. Most are upstanding members of Society. And then there's the trio known as Their Dis-Graces.

Hugh Philemon Ancaster, seventh Duke of Ripley, will never win prizes for virtue. But even he draws the line at running off with his best friend's bride. All he's trying to do is recapture the slightly inebriated Lady Olympia Hightower and return her to her intended bridegroom.

For reasons that elude her, bookish, bespectacled Olympia is supposed to marry a gorgeous rake of a duke. The ton is flabbergasted. Her family's ecstatic. And Olympia? She's climbing out of a window, bent on a getaway. But tall, dark, and exasperating Ripley is hot on her trail, determined to bring her back to his friend. For once, the world-famous hellion is trying to do the honorable thing.

So why does Olympia have to make it so deliciously difficult for him . . . ?
Any you're excited about and I missed?