New release I'm reviewing and excited to read
5th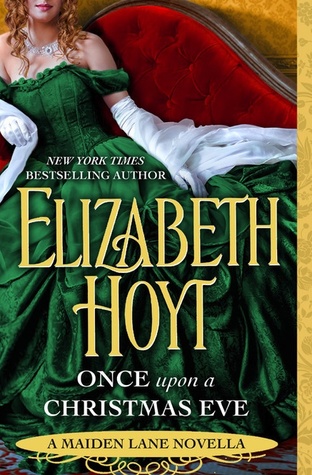 Title: Once Upon a Christmas Eve
Series: Maiden Lane #12.6
Author: Elizabeth Hoyt
Format: eBook, 96pgs
Published: Dec. 5, 2017 by Forever Yours
ASIN: B01DSTTRIK
Adam Rutledge, Viscount d'Arque, really rather loathes Christmas. The banal cheerfulness. The asinine party games. And, worst of all, the obligatory trip to the countryside. His grandmother, however, loves the holiday—and Adam loves his grandmother, so he'll brave the fiercest snowstorm to please her. But when their carriage wheel snaps, they're forced to seek shelter at the home of the most maddening, infuriating, and utterly beguiling woman he's ever met.

Sarah St. John really rather loathes rakes. The self-satisfied smirks. The sly predatory gazes. Oh, and the constant witty banter rife with double meaning. But in the spirit of the season, she'll welcome this admittedly handsome viscount into her home. But as the snowstorm rages, the Yule log crackles, and the tension rises, Sarah and Adam find themselves locked in a fiery, passionate kiss. If love is the true meaning of Christmas, it's the one gift this mismatched pair can't wait to unwrap.
12th
Title: It Takes Two to Tumble
Series: Seducing the Sedgwicks #1
Author: Cat Sebastian
Format: Paperback & eBook, 217pgs
Published: Dec. 12, 2017 by Avon Impulse
ASIN: B0714J1PY2
Some of Ben Sedgwick's favorite things:


Helping his poor parishioners
Baby animals
Shamelessly flirting with the handsome Captain Phillip Dacre

After an unconventional upbringing, Ben is perfectly content with the quiet, predictable life of a country vicar, free of strife or turmoil. When he's asked to look after an absent naval captain's three wild children, he reluctantly agrees, but instantly falls for the hellions. And when their stern but gloriously handsome father arrives, Ben is tempted in ways that make him doubt everything.

Some of Phillip Dacre's favorite things:


His ship
People doing precisely as they're told
Touching the irresistible vicar at every opportunity

Phillip can't wait to leave England's shores and be back on his ship, away from the grief that haunts him. But his children have driven off a succession of governesses and tutors and he must set things right. The unexpected presence of the cheerful, adorable vicar sets his world on its head and now he can't seem to live without Ben's winning smiles or devastating kisses.

In the midst of runaway children, a plot to blackmail Ben's family, and torturous nights of pleasure, Ben and Phillip must decide if a safe life is worth losing the one thing that makes them come alive.
19th
Title: Can't Forget You
Series: Risking It All #3
Author: Rachel Lacey
Format: Paperback & eBook, 353 pgs
Published: Dec. 19, 2017 by Forever
ASIN: B06XFFKLVC
YOU NEVER FORGET YOUR FIRST LOVE

Jessica Flynn can't wait to buy up that patch of unspoiled North Carolina woodland next door and expand her spa. What could be more sensuous than a hot-tub soak under the stars? Jessica would love to bask in the romantic view herself-but first she needs to find the right man to join her in this fantasy. Back in high school, she thought that was the dark and brooding Mark Dalton. But then he left to join the Special Forces, and when he returned to town, it felt like their teenage love affair had never even happened.

Mark Dalton has his eye on the same property for his own business. Yet there's something he wants to have even more. Because Jessica is sweeter than he remembered, and he's finding it hard to resist his attraction to the competition. When they finally find themselves alone, deep in the forest, nature can't help but run a little wild. But if she ever finds out what he's been hiding all these years, she may never forgive him...
26th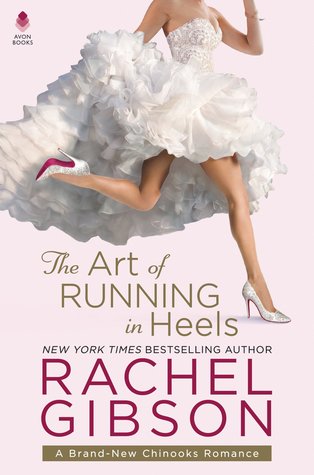 Title: The Art of Running in Heels
Series: Chinooks Hockey #7
Author: Rachel Gibson
Format: Paperback & eBook, 384pgs
Published: Dec. 26, 2017 by Avon
ASIN: B06Y12BDFN
Running in five-inch stilettos is an art form

Leaving your fiancé at the altar on live television is a disaster. Lexie Kowalsky thought she was ready to get married in front of millions of people, but at the last minute she fled the set of television's hottest reality show, Gettin' Hitched. Wearing a poofy white dress and a pair of five-inch sparkly shoes, Lexie hopped a float plane for Sandspit, Canada. She figured no one would find her there. But she was wrong.

Sharing her flight was the Seattle Chinooks biggest star, Sean Knox. Lexie wasn't just a reality-show runaway, she was his pain in the butt coach's daughter. She was chaos and temptation and definitely off limits, but getting her luscious body out of that wedding gown, he couldn't resist getting her in his bed for one amazing night.

Then a photo of Sean and Lexi breaks the internet—and suddenly they're both swept up in a crazy plan to spin the whole story. But you can't run from love—
Title: A Distant Heart
Series: Bollywood #4
Author: Sonali Dev
Format: Paperback & eBook, 352 pgs
Published: Dec. 26, 2017 by Kensignton
ASIN: B06XZR97YK
Her name means "miracle" in Sanskrit, and to her parents, that's exactly what Kimaya is. The first baby to survive after several miscarriages, Kimi grows up in a mansion at the top of Mumbai's Pali Hill, surrounded by love and privilege. But at eleven years old, she develops a rare illness that requires her to be confined to a germ-free ivory tower in her home, with only the Arabian Sea churning outside her window for company. . . . Until one person dares venture into her world.

Tasked at fourteen-years-old with supporting his family, Rahul Savant shows up to wash Kimi's windows, and an unlikely friendship develops across the plastic curtain of her isolation room. As years pass, Rahul becomes Kimi's eyes to the outside world—and she becomes his inspiration to better himself by enrolling in the police force. But when a life-saving heart transplant offers the chance of a real future, both must face all that ties them together and keeps them apart.

As Kimi anticipates a new life, Rahul struggles with loving someone he may yet lose. And when his investigation into a black market organ ring run by a sociopathic gang lord exposes dangerous secrets that cut too close to home, only Rahul's deep, abiding connection with Kimi can keep her safe—and reveal the true meaning of courage, loss, and second chances.

Infused with the rhythms of life in modern-day India, acclaimed author Sonali Dev's candid, rewarding novel beautifully evokes all the complexities of the human heart.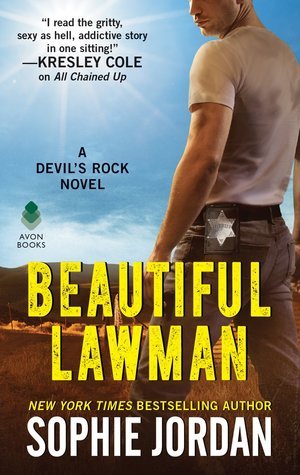 Title: Beautiful Lawman
Series: Devil's Rock #4
Author: Sophie Jordan
Format: Paperback & eBook, 368 pgs
Published: Dec. 26, 2017 by Avon
ASIN: B06Y118YR2
From the wrong side of the tracks and with most of her family in jail or dead, Piper Walsh is used to everyone in town thinking the worst about her. It doesn't seem to matter that she's worked hard to build a good life for herself. So she isn't surprised that when she comes into contact with Sweet Hill's wildly irresistible, arrogant sheriff, Hale Walters, they're instant adversaries. Piper has nothing in common with the town golden-boy-turned-lawman—and she refuses to be a notch on his bedpost.

Despite rumors, Hale avoids fooling around with the women of Sweet Hill, many of whom are hoping to get him to the altar. But staying out of Piper's path is proving near impossible. The infuriating troublemaker clearly has no respect for his badge. As she continues to push his buttons, it becomes clear to Hale that he must either arrest Piper—or claim her as his own.
Title: The Pretender
Series: Games People Play #3
Author: HelenKay Dimon
Format: Paperback & eBook, 368 pgs
Published: Dec. 26, 2017 by Avon
ASIN: B06Y5HKWGY
They say it takes a thief to catch a thief, and Harrison Tate is proof. Once a professional burglar, he now makes a lawful living tracking down stolen art. No one needs to know about his secret sideline, "liberating" artifacts acquired through underhanded methods. At least until one of those jobs sees him walking in on a murder.

Gabrielle Wright has long been estranged from her wealthy family, but she didn't kill her sister. Trouble is, the only person who can prove it is the sexy, elusive criminal who shouldn't have been at the island estate on that terrible night. She's not expecting honor among thieves—or for their mutual attraction to spark into an intense inferno of desire.

Under the guise of evaluating her family's art, Harris comes back to the estate hoping to clear Gabby's name. But returning to the scene of the crime has never been riskier, with their hearts and lives on the line.
What new books are you all looking forward to?